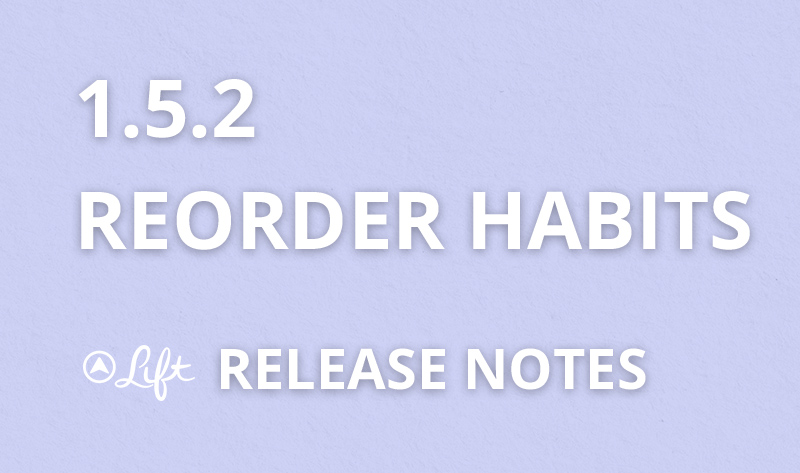 1.5.2 — Reorder Habits
---
In this update, we've added the ability to reorder habits (tap the gear icon in the upper left corner and then the Edit Habits option). We also changed and fixed a number of interactions: we made reminders and friends more prominent, sped up launch times, fixed a bug that affected users with long emails and passwords, and fixed a bug causing crashes.
Below is a little bit of background on our thinking behind the reorder habits feature.
We keep a tally of the most commonly requested features and use this tally as one of the inputs for what we work on. Reordering of habits moved into the top spot after we released reminders. So if you're wanting an improvement in Lift there is an actual payoff to emailing us (feedback@lift.do).
In product development, there's often a tension between what the designer believes will work and what users are asking for. Both sides make a lot of mistakes.
Probably the best change we've made in our support process is that we added surveys to our most common response.
For example, we kept hearing people ask for us to allow them to reorder habits, which wasn't originally something we'd even considered.
So we asked, "Hey, a lot of people agree with you. Why do you want this and how would you use it?"
What we heard back was actually a great idea. People want to reorder habits as a way to structure their goals.
Some people want to order habits by time of day. You eat breakfast, get to work by 9am, go to the gym, tell your wife you love her when you get home, and get to bed before midnight. That's a plan for the day and if you can make that routine, then you'll be happier, healthier, and more productive.
Other people wanted to order their habits by priority, which highlights the broad ways that you can use Lift. You're trying to make a daily habit of meditation, sharing three runs per week with your friends, and while you're at it, using Lift as a log for your twice-per-year bowling excursions (I bowled games of 120 and 113 eight months ago).
Both are great strategies to make sure the right habit is top of mind.