TLDR;
This is a 28-day course on learning to be confident in business and in life.  For the next 24 hours you can join the course for $9.99 with the promo code SAMCON (afterward the price is $29.99).
Sam Thomas Davies, is the author of the course and our featured coach today. He's one of the first and best coaches on the Coach.me platform. I've invited him to share his seven years of expertise as a confidence coach. In his course, you'll get a daily exercise and the option to ask him as many questions as you want.
Read on for why I've chosen Sam and Confidence for today's feature.
From Zero to CEO of Coach.me
Some people are born CEOs. Then there's me.
Confidence is the most problematic character trait. People who have it, often don't deserve it. People who deserve it, often lack it.
If you lack it, I'm going to show you how one of our coaches, Sam Thomas Davies, can help you build it.
I've spent my entire career trying to build confidence by deserving it more. Everyone has had this thought, "If I were a better person, I'd be more confident."
With this deserve-it-more strategy, you don't take any action unless you are completely over-prepared. In practice that means that you don't take action at all or that you take action way too late.
At one of my first jobs, working as a programmer for a media company, I was assigned to work on a doomed project. I was supposed to finish integrating all of the login features from seven different systems, and I was supposed to do this in three weeks.
Programmers call these types of projects: Death Marches. The defining characteristics of a Death March are that there is a fixed deadline and that everyone working on the project knows that you aren't going to hit that deadline.
My project manager seemed very confident that this three week timeline was important and reasonable. But at that time, I was too shy to look him directly in the eyes, let alone tell him that six months would be a more realistic option. Three weeks was impossible.
So, at this point in the Death March story, who is the villain? My project manager was completely wrong about the deadline. He was a dodo. I was completely right about the deadline. But I didn't say anything. I was a villain.
Of course, I corrected that villainy in order to be here today, writing you as CEO of Coach.me. A big part of my path was learning how to become confident. And by confident, I just mean that I can be clear and direct when I need to be.
Along the way, I learned two strategies to build confidence.
One strategy is to be completely over-prepared. This is the hard way.
The other strategy is to learn confidence as a skill. This is the easy way. Acting confidently is a skill that makes you more effective in every aspect of your life.
Some people might consider building confidence to be a selfish goal, but personal confidence is actually good for people around you. Confidence makes you easier to deal with because everyone knows where you stand. (Confidence plus selfishness is what's problematic.)
Sam has created a 28 day course for us. We can take it at our own pace. Although, you should mind that the price goes up from $9.99 (with promo code SAMCON) to $29.99 after today.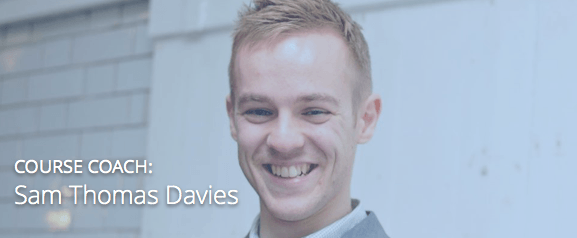 Here's how Sam describes the course:
"If you've ever wanted to present to a room like a politician, maximise life's opportunities or attract your dream partner, join our Coach.me community and learn how, now!
Note: The following exercises may strike you as unorthodox, perhaps even irrational, but I invite you to at least try them before you discredit them – you might be pleasantly surprised."
I like unorthodox and that's why I've joined Sam's confidence course as well. Unorthodox times are when you most need to feel confident.
Here's how you get started:
STEP 1: Join the course and enter promo code SAMCON to get the course for $9.99. The promo code expires in 24 hours ($29.99 after that). You'll have permanent access and can take the course at your leisure.
Make sure to enter the promo code before entering your credit card information.
STEP 2: Do an exercise each day. Share your progress with Sam by leaving a note with your check-in. The first exercise is especially important to do this way.
You'll have access to the course for as long as you like and can take the exercises at your own pace. But I'd definitely recommend starting immediately and trying to finish as fast as possible. That way you'll be on the same wavelength as everyone else reading this email (and I do expect this to be a popular course).
Go to it!
– Tony, CEO/Founder of Coach.me
P.S. We're always trying new things and wanting your feedback. Feel free to email me about today's featured coach. I'd love to hear from you.
P.P.S. The Coach.me coaches contribute to a group blog, Better Humans. Sam's articles are consistently at the top. If you're interested in hearing more from him, follow the Better Humans blog on Medium.